Roswell Roofing Contractor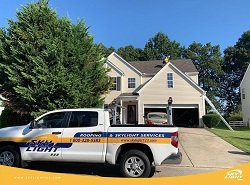 Is your roof starting to look old and worn out? Have you noticed signs of roof damage such as missing and broken shingles? Possibly even a roof leak? These are all good reasons to be searching for a local Roswell roofing contractor and you have come to the right place! Roofing problems that are neglected often begin a vicious cycle that leads to other costly repairs bills when it is all said and done, especially when water begins to enter your home.
Skylight Roofing & Restoration is The Perfect Choice for Georgia Homeowners That Want a Premier Roof Repair, Roof Replacement, and Skylight Contractor!!!
As a GAF certified roofer, we have vast experience with all types of residential roofing systems and how the irregular weather in Georgia has its effect on your roof. What this means to you as a homeowner is that we have the knowledge and skill-set that is necessary to handle all of the different challenges that your residential roof system may present. Depending on your roofs current condition and demands we offer these exclusive roofing services:
Roof Replacement
If your roof is more than 20 years old and is beginning to show its age, or it has severe storm damage, then it is probably time for a full replacement. Our top-rated roofing team will do whatever they can to help you get the most life out of your roofing system and will never try to upsell you on services that your home does not need. In the event that you do need to reroof your home, you can rest easy knowing that outstanding craftsmanship, customer approval, and project safety are part of the core fundamentals of our business.
When You Need a Reliable Roofing Contractor, Skylight Roofing & Restoration is The Right Choice For You!!!
In our effort to provide our clients with nothing but the highest quality roofing services, we have chosen to install and become certified with GAF Materials Corporation (North America's Largest Manufacturer of Commercial and Residential Roofing Products) due to their unparalleled reliability of producing weather-rated roofing products that are made to withstand the punishing elements in Georgia. Hiring a GAF Factory-Certified Installer for your next roof replacement project also means that your new roof will come with worry and hassle-free warranty options that are invaluable.
Roof Inspection and Repair
Roof damage usually begins with small issues from daily exposure and wear and tear from Mother-Nature. As this cycle continues each season those small problems will progressively become worse when they are not repaired. Routine roof examinations and repairs when necessary are an indispensable way to get the maximum lifespan out of your roof. So, why wait for a problem to start thinking about your roof?!?
Proactive Homeowners Have Their Roof Inspected By a Professional Roofing Contractor in Roswell at Least Twice a Year and After All Severe Weather Events!!!
No matter how big or small your repair project and needs are, our team has the expertise and experience to finish the job correctly the first time. We are a full-service roof repair company that delivers flawless repairs using highly-trained specialists ready to inspect and locate the true source of your roofing problem. Our experts will thoroughly repair your roof ensuring that its quality and lifespan are not compromised.
CALL SKYLIGHT ROOFING & RESTORATION TODAY AT (800) 328-5583
When you need roof installation or repair services, we are the professionals that will meet your requirements regardless of the complexity of your project. With Skylight Roofing & Restoration as your go-to roofing contractor, you will receive the quality you deserve for your hard-earned money. Your total satisfaction is one of our top priorities, which is why we are the preferred roofing contractor for countless homeowners in Georgia.